Hoi An Delicacy Hotel & Spa – Your best experience in Hoi An
Inspired by the beauty of the Peacock, a symbol of passion, Hoi An Delicacy Hotel & Spa introduces to our guests a delicate and stylish design. A perfect combination of gentle curves and eye-catching colors set us apart from any other hotel in the area.
With 68 well-equipped guestrooms, Hoi An Delicacy Hotel & Spa will meet all our guests desires and provide a comfortable accommodation within walking distance from Hoi An ancient town. All guestrooms are furnished with either a large window or a balcony, offering lush natural daylight, with yet adequate privacy for a harmonious stay.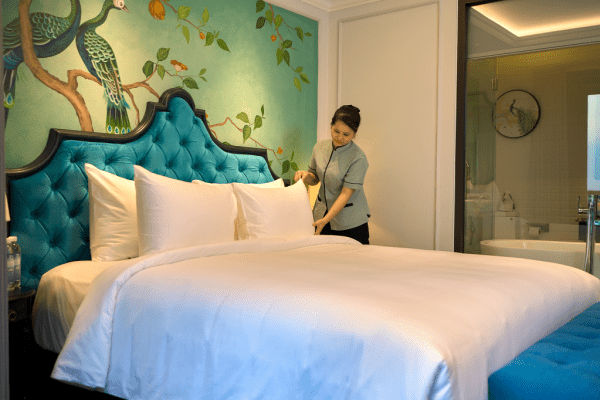 Chestnut Hoi An Restaurant is located on the ground floor, offering an indoor and outdoor dining area. Designed with sofas to relax or gather with a group of friends as well as intimate dining tables to charter every need and provide a unique ambiance. Our Chef has designed a delightful menu with local and Western delicacies for you to explore the local culture and embark on a culinary journey for an unforgettable vacation.
Escape from the hustle and bustle of the city streets and unwind at our Deli Spa, an oasis of calmness and relaxation. Impressive design with the beauty of the peacock, warm colors and high quality equipment, will ensure an overall sense of well-being. We take pride to define ourselves as the most delightful spa in town. A variety of professional therapists offer massage techniques to help you relax and relive your pain while strengthening your circulatory system, and allow your senses and mind to feel refreshed and exhilarated.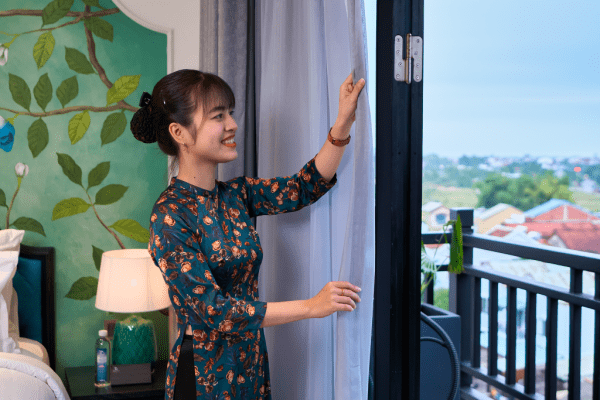 After a long day out and about, there ain't no better place to chill than our Level 7 Bar & Coffee. A place under the stars where you can drift away in the evening and sip on finest cocktails, enjoy a beer with friends or have a romantic evening with a delightful bottle of wine.
Join us to discover our Hoi An Delicacy Hotel & Spa with your finest mind. Our dedicated and enthusiastic team of staff is ready to enhance your every footstep!